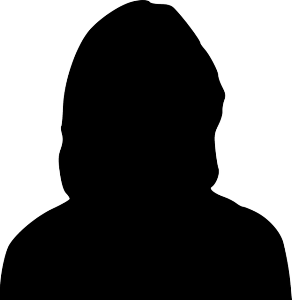 Best possible therapy, physically and emotionally.
Having had two knee replacements within a year, I owe a great deal of thanks to Great Northern Rehab for my wonderful recoveries. They provided the best possible therapy, physically and emotionally. They provide a warm and caring environment, which is important in the healing process. I am now pain free due to their commitment and therapy. We should be very proud to have Great Northern Rehab in our community.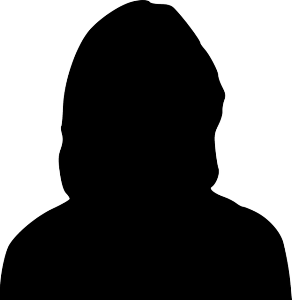 Thanks much!
I appreciate all of Shawn's help! Thanks much!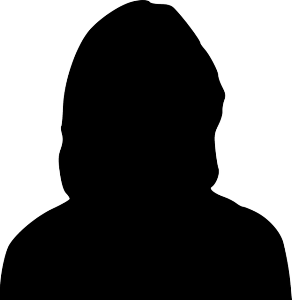 Just a quick note
… to thank you for helping me rehab the knee. This winter I downhill skied, X country and snow shoed. The custom knee brace is perfect. Thanks for helping to keep me active. I'm now hiking + getting ready for the Green Bay Half Marathon. Yay!!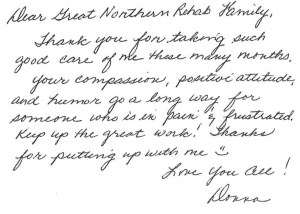 Dear Great Northern Rehab Family,
Thank you for taking such good care of me these many months.
Your compassion, positive attitude and humor go a long way for someone who is in pain & frustrated.
Keep up the great work! Thanks for putting up with me. 🙂
Love you all!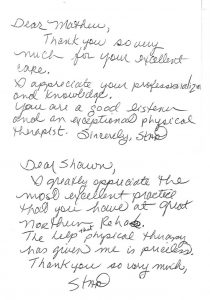 Matthew and Shawn,
Dear Matthew,
Thank you so very much for your excellent care.
I appreciate your professionalism and knowledge.
You are a good listener and an exceptional physical therapist.
Sincerely,
Star
Dear Shawn,
I greatly appreciate the most excellent practice that you have at Great Northern Rehab. The help that physical therapy has given me is priceless.
Thank you so very much,
Star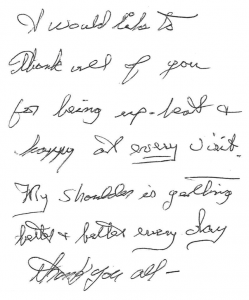 It's great to be pain free
I would like to thank all of you for being upbeat and happy at every visit. My shoulder is getting better and better every day. It's great to be pain free and able to move the shoulder.
Thank you all.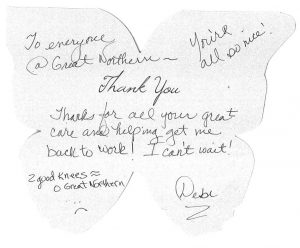 Great Care
To everyone at Great Northern, Thanks for all your great care and helping get me back to work! I can't wait! You're all so nice!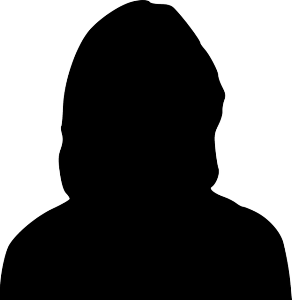 I now pronounce my shoulder "healed"
I have been pleased with my shoulder's recovery . . . Just returned home from the beautiful Quetico canoe country of Ontario. This trip, which is a voyage through undeveloped pristine lake country that remains much the same as when the glaciers retreated 10,000 years ago, can be ardous. The route in the guide book was classified as "challenging" . . . The beaver dams, bogs, rock fields, and steep ascents and descents did not fail to live up to its billing. With canoe and Duluth Packs on our backs, [we] launched off into the wilderness. After 75 miles of canoeing and 13 portages I now pronounce my shoulder, "healed."